Feel free to make edits on the disillusion database and help us expand our knowledge, or even just peruse and find information you may not have known before! Happy editing!
---
WARNING: This wiki contains a plethora of spoilers related to the Rays of Gold series.
Please read at your own risk!
---
We currently have 15 articles and 42 images.
However, we still need your help! Help us expand the wiki!
(You must attribute the wiki in any way when chunks of text are taken from the wiki articles in verbatim and used elsewhere.)
If you're new to Wikia, below are some links to help you get started.
Books
Characters
Affiliates
Featured article of the month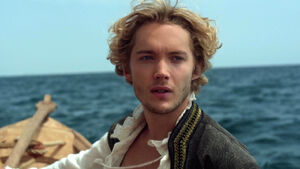 King Arthur Pendragon of Camelot and the Britons was the son and heir of King Uther Pendragon of Camelot and Igraine. He was prophesied to unite the entirety of Albion as "The Once & Future King", organized the strongest knights of time as the "King of Knights", defeat the Saxons and the Roman Empire, and recover the missing Holy Grail. He was a spoiled, narrow-minded and arrogant prince, though good-hearted; he matured later on upon meeting Eira Prowel, who found out that the reason of his immature character was because of him feeling that his father had forgotten about him. In the end, Arthur succumbed to his wounds en-route to Avalon that he had accumulated at the Battle of Camlann, him being brutally wounded by Sir Mordred. As the legend goes on, he was one day expected to rise once again. Read more »
Quote of the month
"
Stupid woman... don't cry. Do you remember that time that we made a wish? You said that you wished that we'll be together for forever. I haven't told you my wish, didn't I? I also wish for the same thing. I also... wish for it... And now I pray... I pray that you'll... love someone... the way you love me... I pray to God... that you do.
"
Community content is available under
CC-BY-SA
unless otherwise noted.